The Picus Sonic Tomograph test is a technique that uses sound waves to detect decay in trees. It creates a two-dimensional, or sometimes three-dimensional, image of the internal structure of the tree, giving a picture of the extent of internal decay.
Brighton & Hove City Council (BHCC) had a Picus Sonic Tomograph test carried out on this Wheatley elm tree, which formed part of an historic semi-circle of elms in Brighton's famous Preston Park. The fruiting body of the fungus Rigidoporus ulmarius (commonly known as Giant Elm Bracket) was visible at the base of the tree and the test, carried out by independent consultant and local elm campaigner John Harraway, had been required to identify the extent of any associated decay.
A proportionate specification for reduction was determined from the information provided by the test.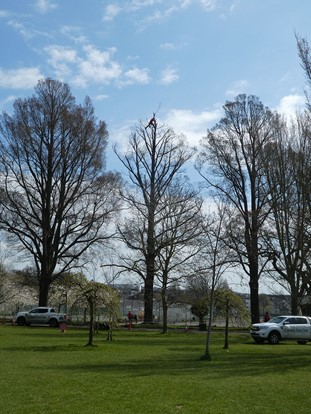 Reduction and reinvigoration saves Brighton Elm
Wheatley Elms are very tall, conical shaped trees, which come into leaf relatively late and hold on to their leaves deep into winter. Any colonisation at the base poses a threat of the tree uprooting in high winds, so we were asked to carry out a reduction of the tree, as part of the ongoing program of safety works under way in the park.
A crown reduction of 3m was specified in order to create a safer environment. This would greatly reduce its weight and wind resistance and could also stimulate the tree, which would help to combat any further infections.
Zeno Kasparis undertook a significant proportion of the work using a Mobile Elevating Work Platform (MEWP) and Simon Cawley applied the finishing touches by using a Personal Fall Protection System The ground crew of Ben Murphy and Lewis Angus managed the debris and ensured the safety of the general public.
By taking action early, BHCC has increased the safe useful life expectancy of this particular tree. Had it been left the fungal colonization may have made the tree more liable to wind throw. The potential loss of this tree would have had a significant impact on the historic fabric of Preston Park.
Now we can look forward to seeing this majestic tree continue as a key feature of this historic park.
""The crescent of Wheatley elms is a central feature to the park and we wanted to ensure management decisions for these trees were appropriate. We found the correct balance between preserving the feature and the safety of the public, which is paramount. With the decay detection results and the expert works conducted by our contractors, Connick Tree Care, we are confident this has been achieved."

Peter Small, Arboricultural Manager, Cityparks, Brighton & Hove City Council
If you would like to talk to us about tree reduction, please send a message or call 01737 779191.