Connick Tree Care fulfils Facilities Management contracts for clients across the South East and London.
Our experienced team work as preferred suppliers to a range of Facilities Management companies, each choosing Connick Tree Care to manage proactive and reactive tree maintenance on commercial properties and public sector building grounds.
We work in close partnership with Facilities Management clients to ensure each contract is serviced efficiently, effectively and with the highest health and safety standards.
Our Facilities Management clients

Reliable and responsive arboriculture for Facilities Management
Our project management team work closely with our commercial clients, servicing each contract with our team of qualified tree surgeons, helping Facilities Management companies to work smarter and safer.
We are reliable. Connick Tree Care regularly actions time-sensitive reactive tree care, responding to call outs 24 hours a day, 7 days a week. We clear tree and branch debris and make landscaped areas safe for members of the public, limiting property damage and ensuing businesses can operate safely.
We are proactive. We conduct seasonal maintenance and assessment of trees for Facilities Management clients, to mitigate the risk of potential storm damage, tree disease or invasive species, to help businesses avoid unnecessary repair costs.
We maintain green spaces. We complete regular pre-planned maintenance of trees and shrubs at a range of commercial sites on behalf of our Facilities Management clients. We cut back trees and bushes to ensure branches do not obstruct walkways, paths or roads and keep CCTV cameras clear.
We are safe. Our teams are qualified to ensure they understand how to effectively manage risk, always conducting works to utmost safety standards, to keep themselves and members of the public safe. Our mechanical equipment is accredited and thoroughly maintained to meet the high safety standards of our Facilities Management clients, who rely on Connick for our impeccable safety and operational excellence.
We are efficient. We understand the importance of getting the job done on time, and on budget. Our Facilities Management team are in close conversation with our clients to fully understand and action the unique needs of each contract, surveying and planning works schedules to maximise our time as efficiently as possible.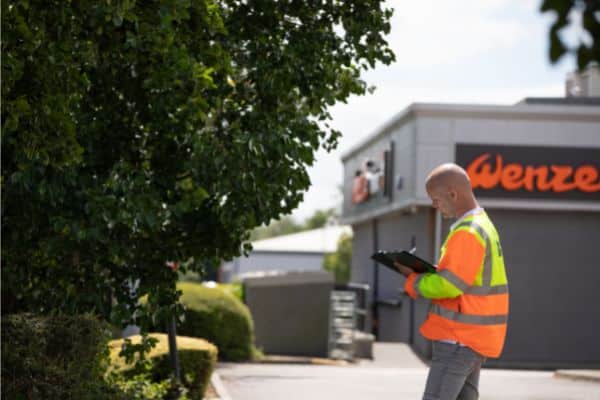 How we work with Facilities Management Clients
Proactive contract tree and hedgerow pre-planned maintenance at commercial properties, retail spaces, private managed properties, schools and colleges
Reactive time sensitive works, completed within timeframe as specified by clients. From as little as one hour guaranteed response
Scalable qualified in-house teams able to meet the changing need of seasonal or reactive Facilities Management contracts
Reliable, consistent and professional contract management from our experienced leadership team
Efficient online account management, tracking works completed, for simple progress reports and time management, maximising our contracted time for best value for money
Sustainable operations, we understand the importance of carbon reduction, and are upgrading our fleet to include electric powertrains
What our Facilities Management clients say
Connick Tree Care provides proactive tree maintenance service to Knight Frank clients, including the Wellcome Trust.

"Through Knight Frank, Connick Tree Care undertake a regular tree inspection for us. The health and condition of the trees are recorded and a schedule of works to be carried out during the year is produced, helping us to budget accurately. This gives us peace of mind that we are complying with our duty of care to those that visit our premises and ensures that our trees are healthy, and risks associated are minimised."


Peter Davidson of Wellcome Trust
Get in touch
Contact our Facilities Management team to understand how Connick Tree Care could work with you.