The Tree Lover
From climbing trees by the Berlin Wall to planting trees in Tennessee, Mike Connick has been caring for trees through his own business, Connick Tree Care, for 35 years. In this interview he looks back over his career in arboriculture and forward to the role of tree care in an ever-changing world.
"I love cycling, I love trees and I'm with all these people that love trees, and we're just cycling through the countryside, talking about trees and looking at trees."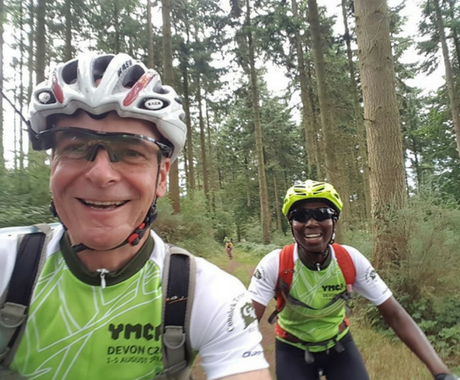 Mike Connick, founder and MD of Connick Tree Care, is momentarily in Heaven. He is reflecting on the 2019 Tour des Trees, a 500-mile cycling event in aid of the Tree Fund, which combined two of his life's passions, taking him through parts of Kentucky and Tennessee, starting in Nashville. He's smiling broadly and I notice he uses the word 'love' a lot.
"It was just brilliant. And then we'd do some education slots, where we'd stop at the local town and get all the townspeople out and we'd plant a tree with them. I love it, love it, love it. I was on such a downer when I got back because I had such a good time doing it."
Mike is sitting in his unpretentious office in Earlswood, near Reigate. Around him are pictures of his rally-cross car (another passion), a word cloud in the shape of a bicycle (a gift from his staff for his 60th birthday in 2019) and his children, James, 31, Ruth, 30, Jack, 27 and Elizabeth, 16.
He's not on a downer now. It's 11.30 on a mild October morning and he has already cycled 24 miles from his home in Epsom Downs to visit a client, and then another 17 miles back to HQ. Connick Tree Care is celebrating its 35th birthday and has just been ranked 11th in the country by Horticulture Week.
"I'm so happy with that. It's a real nice accolade."
We're here to talk about his 35 years at the helm of Connick Tree Care; how the industry has changed; how the business has grown; the highlights; and the secret of his success. From one employee and a truck in 1985, he has built the business up to a head count of 60, many of who have been with him for more than 10 years, some for over 20. In 2019 he opened his third depot in Newbury, to add to one in Brighton and the HQ in Reigate.
Preserving the green infrastructure
If Isaac Newton saw further by standing on the shoulders of giants, Mike has done so by climbing trees. So what have been the biggest changes he's seen over those 35 years?
"Consultancy's really grown," he says. "We never did consultancy to start with. We were asked to do the odd tree report but that was all. We recently wrote the Tree Strategy Document for Brighton and Hove Council. The green infrastructure was high up the agenda in the local population's view, so they're in the process of adopting our strategy. I think there is an emphasis on the green infrastructure and we're part of that.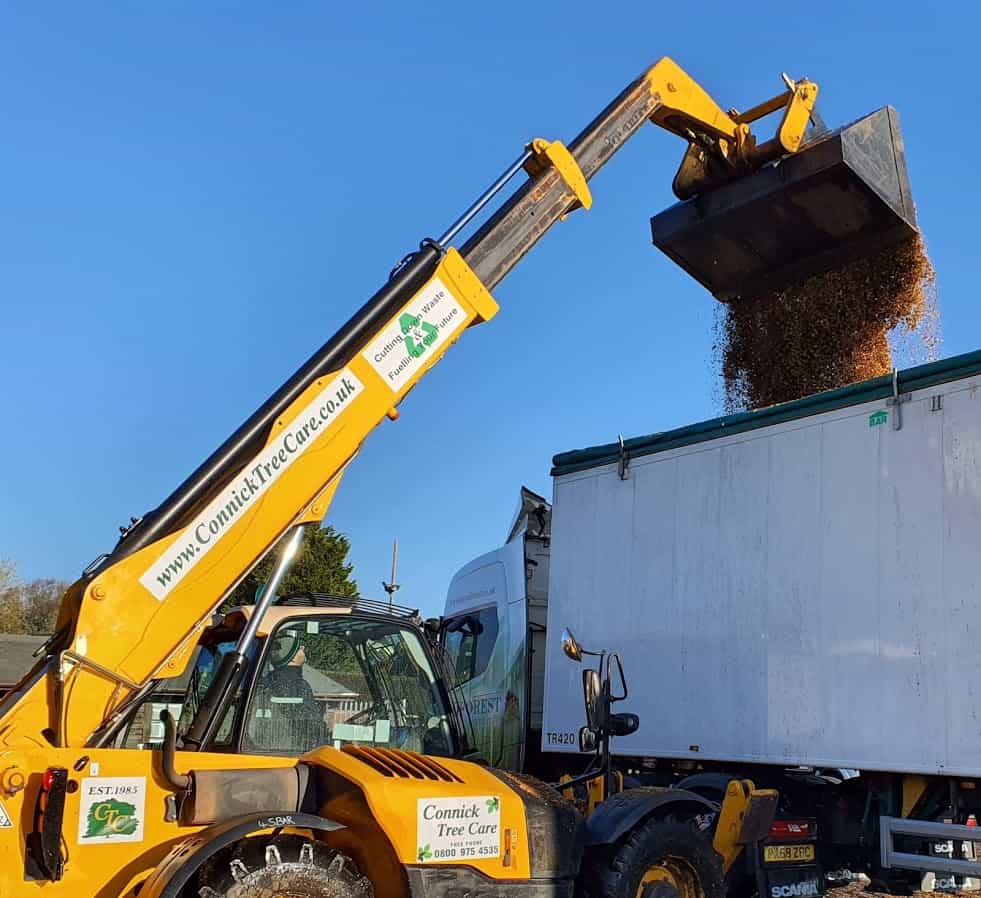 "We've always been really keen on recycling. All of our wood chip goes to biomass fuel stations. For 10 years I tried to put a biomass boiler in to heat East Surrey hospital. I did three feasibility studies, which all stacked up, but then getting the NHS to buy into it was just too difficult in the end. I'm still keen to do it and I'm looking at a medical waste recycling plant and putting a biomass boiler in there to deal with clinical waste. That would be powered with our wood chip."
In the days leading up to our interview the news had featured Extinction Rebellion protesters trying to prevent HS2 from felling an ancient woodland in Staffordshire. As a lover of trees, Mike sympathises with the ecological standpoint but argues that development and tree care can go hand in hand.
"You have to let development happen and infrastructure change where it needs to change, but what you need to do is compensate for it. Let's create more woodland, more diversity in other areas. The Americans are great for it. They just put a price tag on it. 'You want to fell that tree? Fine. That'll be five thousand bucks. We'll plant ten trees for the one you're going to take out.'
"That's easy to do when you've got big highways and big open spaces. In the UK that's not so easy to do, so we have to look at a balance where we look after trees, particularly in London, because there isn't the space to put new ones in.
"But thousands of trees are being planted in compensation and that never gets mentioned in the news. The woodland tree population is rising. And there is certainly more emphasis on preserving and planting trees. My aim is to plant a tree for every one we fell, which I don't think we quite achieve yet, but we're working towards that."
Reduction replaces thinning
Tree care methods have changed too.
"It used to be taboo to reduce trees; you had to thin them all the time. Now we reduce trees and rarely thin them, because in a lot of scenarios, to keep the tree within the available space, it needs to be kept small. In my early days you'd remove every piece of dead wood out of a tree. Now you manage dead wood and take it out where you need to. That's about habitat. We're looking at all the environmental aspects now.
"The whole ethos of the business is caring for trees: keeping trees in their current position and condition; looking after trees so they stay there and they don't fall apart and they work with the adjacent infrastructure; pruning trees so they don't need to be felled. That's where I think we're contributing to the environment: looking after trees. That's the key to it.
"We used to paint all the cuts using Arbrex, which was a tar-based sealant. You used to have a pot of Arbrex on your harness and your paintbrush, so as you were shinning about on the tree the tar used to splash out on your trousers. You'd go to the café at lunch time and when you went to get up you'd be stuck to the seat!" We've not used Arbrex for over 30 years. Research found that, if cut at the right angle, the tree heals better on its own.
A rise in paperwork
Of course, we can't discuss the changes to a business as dangerous as tree surgery without mentioning health and safety; nor, indeed, the irony of increased paperwork for a business that is about preserving trees.
"I'm mixed on that," says Mike. "I'm very much for safety, I don't want anyone getting injured in my company, I want to act safely and I respect that it has to go onto paper, but ultimately it's about the guys thinking about the safety on a daily basis.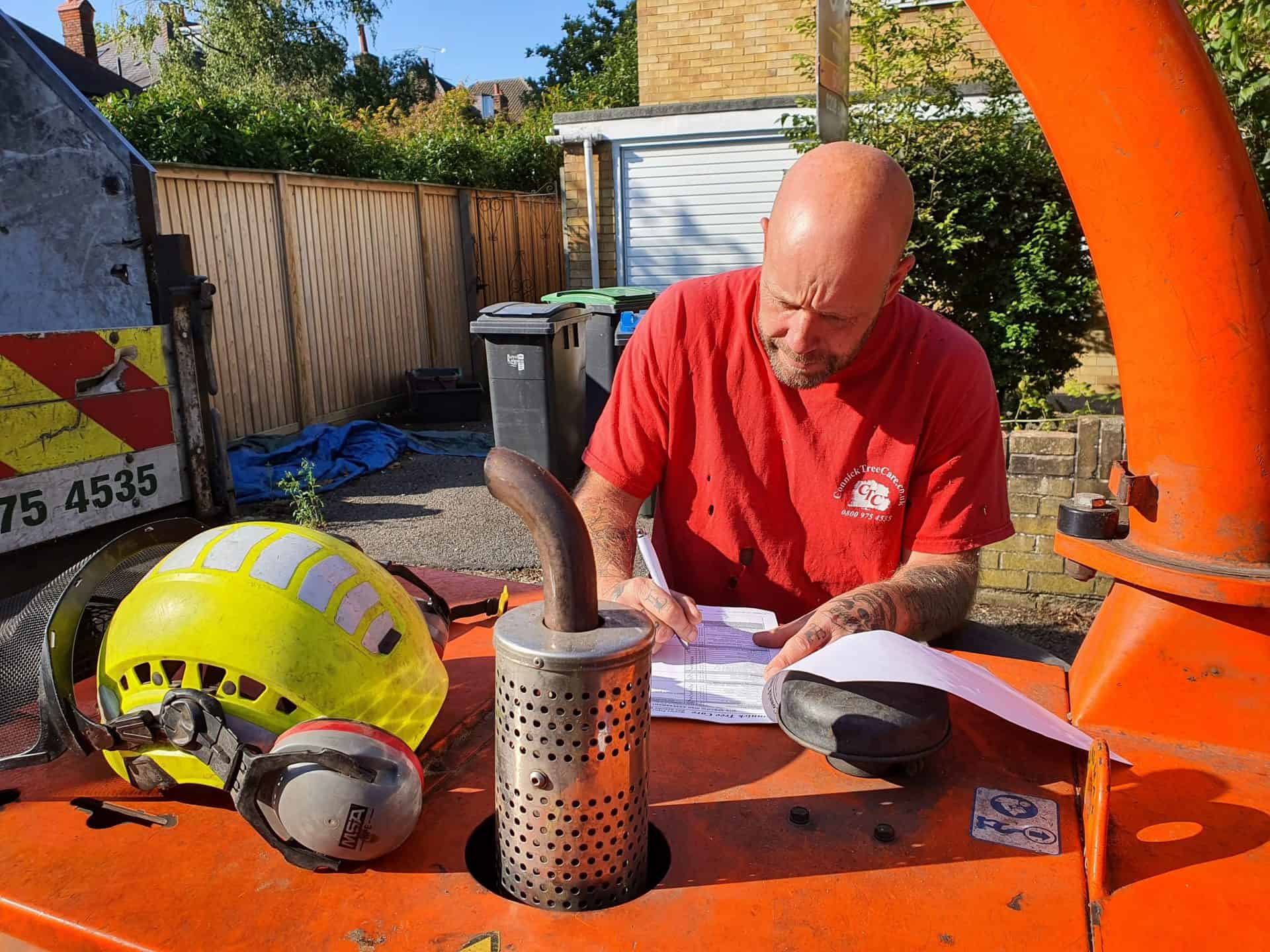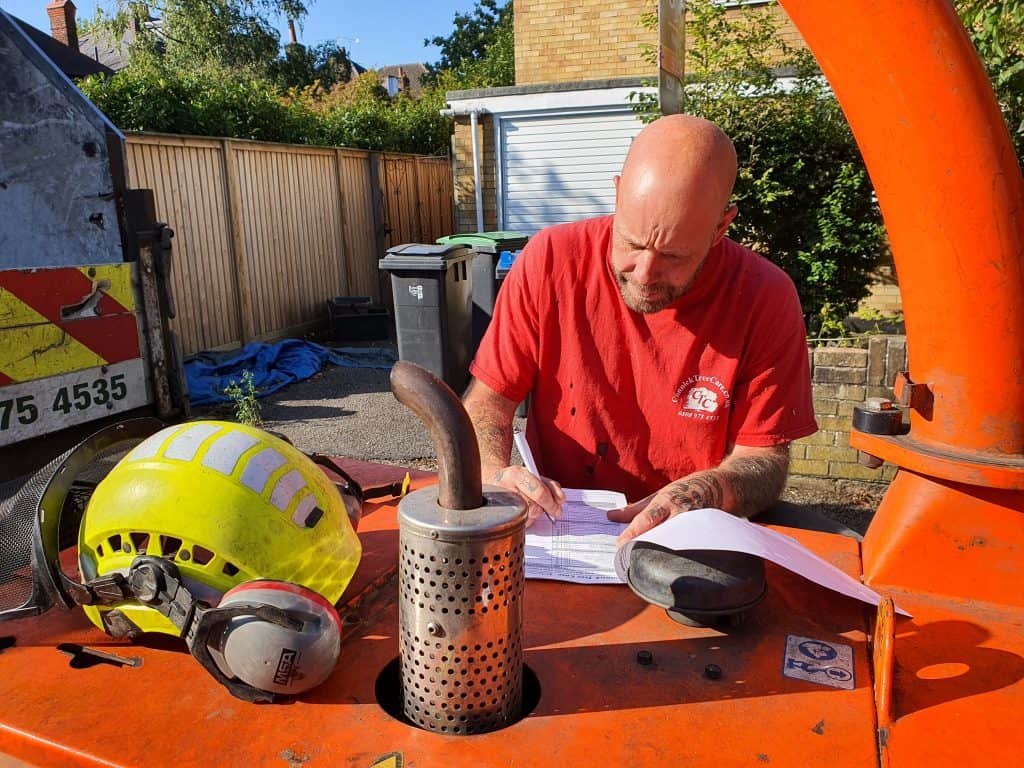 "I remember teaching one of my guys, Barry, in the early days about how to do a risk assessment. He said, 'Mike I can't do these risk assessments.' I said, 'Barry, what did you do when you turned up at the site?' He said, 'I looked at the job, sussed out what we were going to do, talked it through with the guys, we said we were going to put signs out here and… etc' I said, 'Barry, you've done your risk assessment. You're doing it every day. All we have to do now is put it onto a bit of paper to prove that you've done all the good things you do every day.'
"The main thing is that they think about the risks and minimise the risks, because we are in a dangerous game. We're working at height, we're working on ropes and harnesses, with chainsaws, in the public environment, you know, it's got 'Danger' all over it and it's really important that these guys are alert. That's one of the key features of a member of our staff. They need to be alert all the time, need to be aware of their surroundings. You've got to have eyes in the back of your head. Watch. Watch. Watch."
Learning the ropes
Mike first got into arboriculture in the 1970s, when a two week trial at Merrist Wood Agricultural College in Surrey stirred an interest in tree surgery.
"From school I wanted to work outside, I didn't want to be based in an office. I went to Merrist Wood and did the trial, which gave me basic experience in horticulture, growing plants, looking at landscape and tree surgery. I liked the idea of tree surgery, so I got a year's experience in horticulture first, then went to college and learned about tree surgery, and then I joined a tree surgery company.
"I went and worked in Germany, in Berlin. I just fancied it – a bit of experience, learn a different language and work on trees in a different environment. So I was in Berlin when it was a walled city, which was really weird. We used to work on trees overhanging the wall and you could see bullet holes in these trees where the East Germans had shot at it."
So you speak German?
"No. Cos they all speak English, don't they? You'd get on the bus and you'd use your best German to speak to the bus driver and you'd think, 'I've done that perfectly,' and the bus driver would go, 'Yeah, where do you want to go?' And he's the bus driver!"
Launching the company
Mike came back to England and continued working quite happily for other companies.
"It wasn't my desire to own or run my own business but I got to a point where I couldn't go any further. I was managing and looking after guys and knew I could do that, so I went and got one employee and built it up from there."
That was 1985, the year of Live Aid, the Bradford City stadium fire, the Heysel Stadium tragedy. Bonnie Tyler was Holding Out for a Hero, while Tina Turner insisted We Don't Need Another Hero. It was the era of Aha, Jennifer Rush and Frankie Goes to Hollywood. Understandably, perhaps, Mike's recollections of that year revolve mainly around setting up his company and winning work. He picked up business fairly easily by spotting an opening in the market.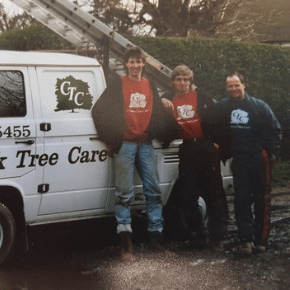 "Lots of tree surgeons used to subcontract for landscape companies and builders etc, so they wouldn't have their name on their truck, they'd have a blank truck. I said, 'I'm going as Connick Tree Care,' and I plastered my vehicle with my name right from the word go."
That simple advertising ploy worked a treat. Ever since, 30% of Connick's new business has come from the advertising on the vehicles.
Business takes off
Mike was brave in his tendering too. He tendered the London Borough of Richmond in a daunting interview that he remembers vividly.
"First thing they said was, 'Oh, are you on your own?' because they expected a big presentation with three people there. And they took me into this room with the biggest table you've ever seen, and it was so big that I was sitting all on my own on one end and my interview panel were at the other end, like a mile away. That was really daunting."
Nevertheless, he came second, which gave him the confidence to tender Reigate and Banstead, which he won.
"That was the stepping stone to bigger contracts. Suddenly, rather than relying on the odd ad hoc private or commercial job, we suddenly had a guaranteed year's worth of work in front of us, even two, three years worth, and I knew I could employ two or three guys because I'd have permanent work for them. And we built on that."
Working with royalty
A contract with the Royal Parks soon followed. Mike has a photo of himself with Prince Philip, planting a tree in Greenwich Park, where Connick has been the incumbent tree surgeon for nearly 30 years. The Royal Parks tender every three years, which means that's nine consecutive tenders Connick has won.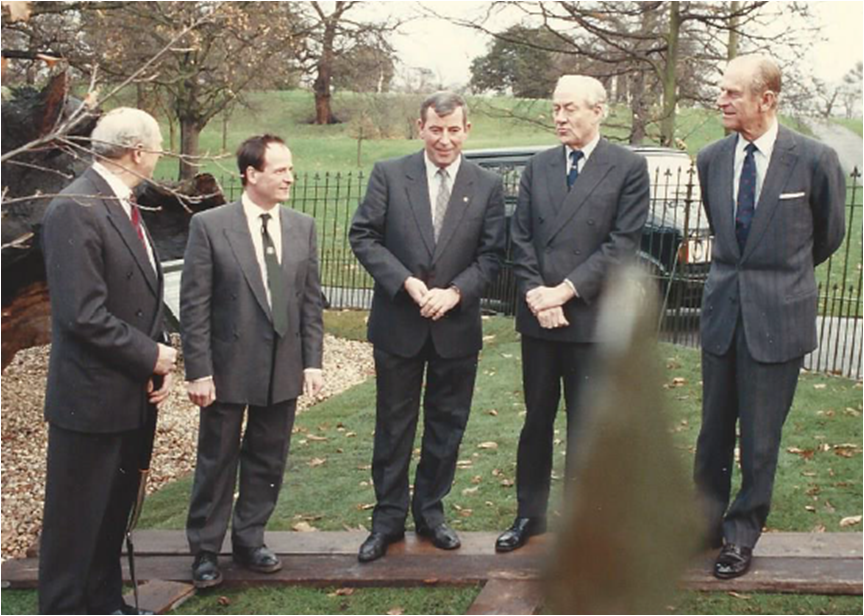 "It's great, we did the Olympics there. We had a vehicle and chipper locked in to Greenwich Park for the whole of the Olympics and a crew there on standby. That was great fun being involved in that, really exciting being there, advising them on the trees. The park lent itself to the event."
Another highlight was pruning trees at the Houses of Parliament. Still in its infancy, Connick Tree Care worked on all the plane trees in the Victoria Tower Gardens.
"That still sticks in my mind as a really prestigious job. And there's a load of Indian Bean Trees on the other side of the House of Commons, which I love because of their Latin name: Catalpa bignonioides." He repeats "bignonioides" with relish. "A great tree."
Running a successful business
I wonder whether running a successful business has taken Mike away from the hands-on tree work that attracted him to the industry in the first place.
"I haven't stopped," he replies. "I still go up trees. I was working with the lads last Thursday, dragging brushwood with them, feeding the chipper."
He goes on to talk about all the aspects of the business and each one seems to fire his enthusiasm as much as climbing trees, which he still does now and then.
"I do like getting my hands dirty and getting stuck in. I do like going out and meeting and greeting the clients. I love talking to people about trees, so I love looking in people's gardens and thinking how they could improve their garden by managing their trees better. I like managing people, managing the entity, and I'm quite happy to sit and look at figures.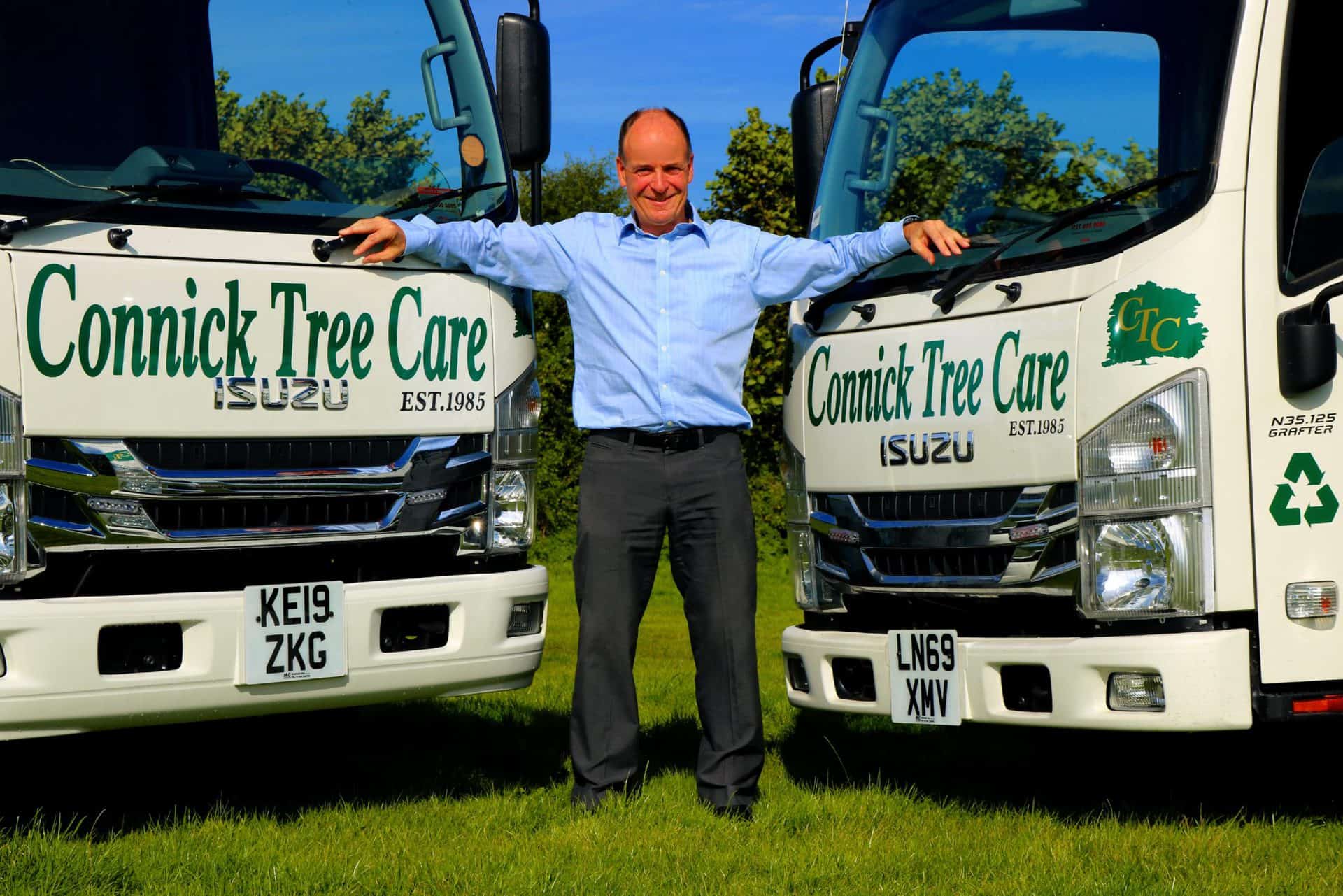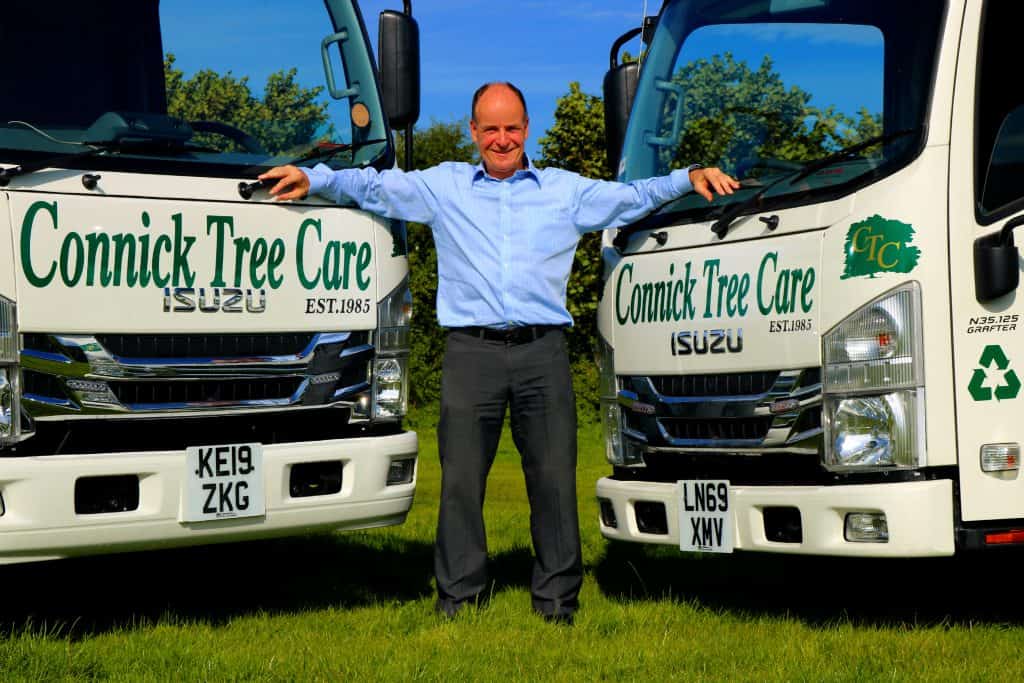 "I'm working on the development of our IT systems to make us more efficient. I'm really keen to make the company as efficient as possible so that we can deliver the best service and not waste time on unnecessary things. So I'm building a new KPI dashboard, which will monitor whether we're answering the phone quickly enough and we're getting the quotes booked in quickly enough and then we're getting the quotes out to the clients quickly enough and turning the whole job round as quickly as possible; people aren't waiting for our service."
Rolls-Royce standards
It seems there's not an aspect of the business that Mike finds mundane. He even enjoys spending money on new vehicles and tools.
"It's always a challenge to get the vehicles right. There's always a little tweak, like the ladder rack could be better or the tool boxes could do with this hook in them. We've been buying Isuzu trucks for 13 or 14 years now. We buy them as a chassis cab and then customise the body on the back. I've got a bodybuilder who, again, I've been using for years. They build exactly the right body for us on the back of the truck. Not too big, not too small. I'm always talking to the lads and refining things."
"These guys like pruning trees and they like doing a good job. And they like a bit of kit as well. I'm always keen to buy them the kit they want, whether it be a chainsaw or a climbing piece of equipment. They're into these walkie-talkie headphones now.
"We actually try and do everything we can without chainsaws. Most of what we do is with a pull saw. And we've invested in a lot of electric kit. We did all these box trees at Rolls-Royce this summer." Rolls-Royce's state-of-the-art manufacturing plant near Chichester is something of an environmental trailblazer.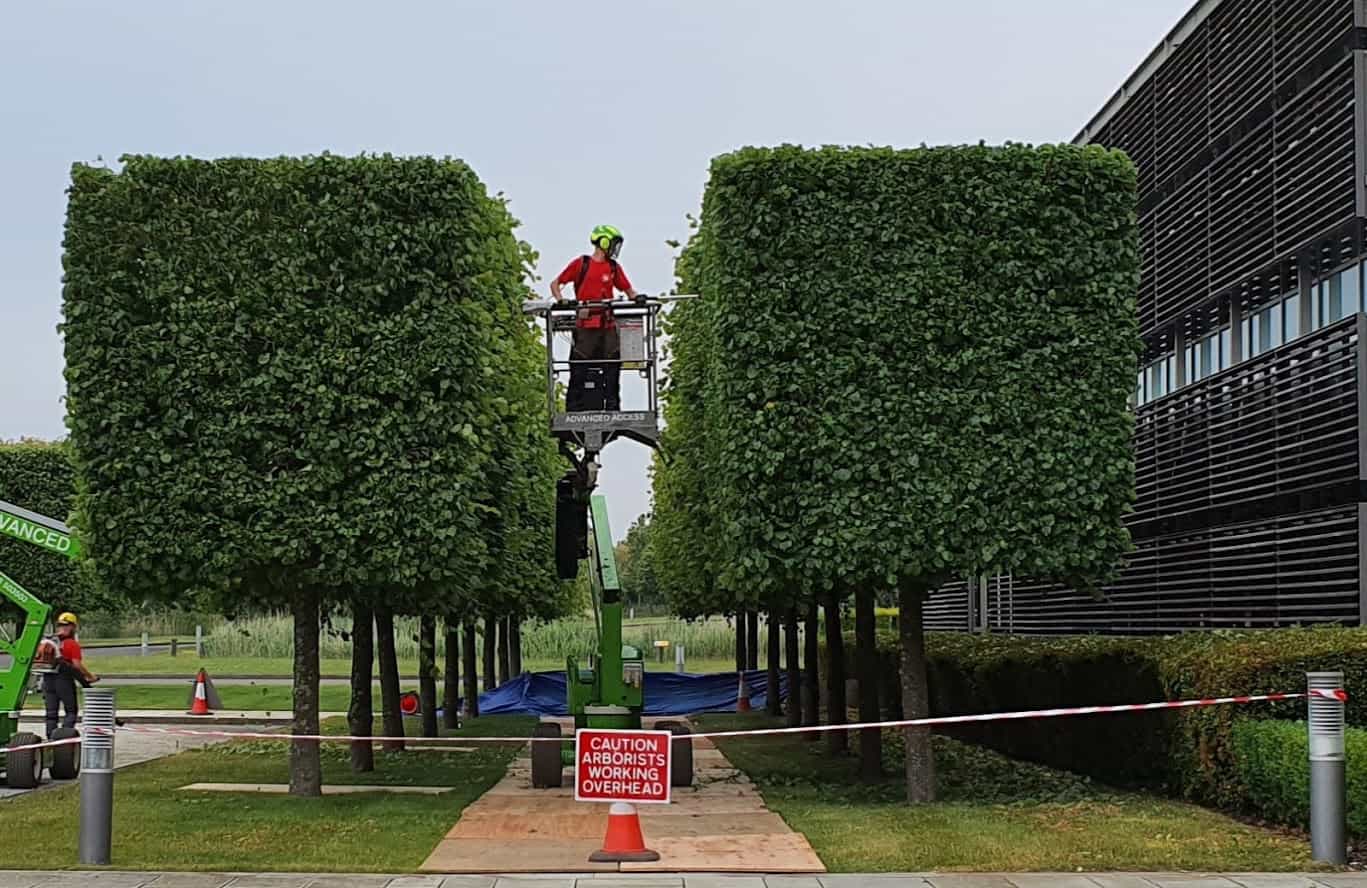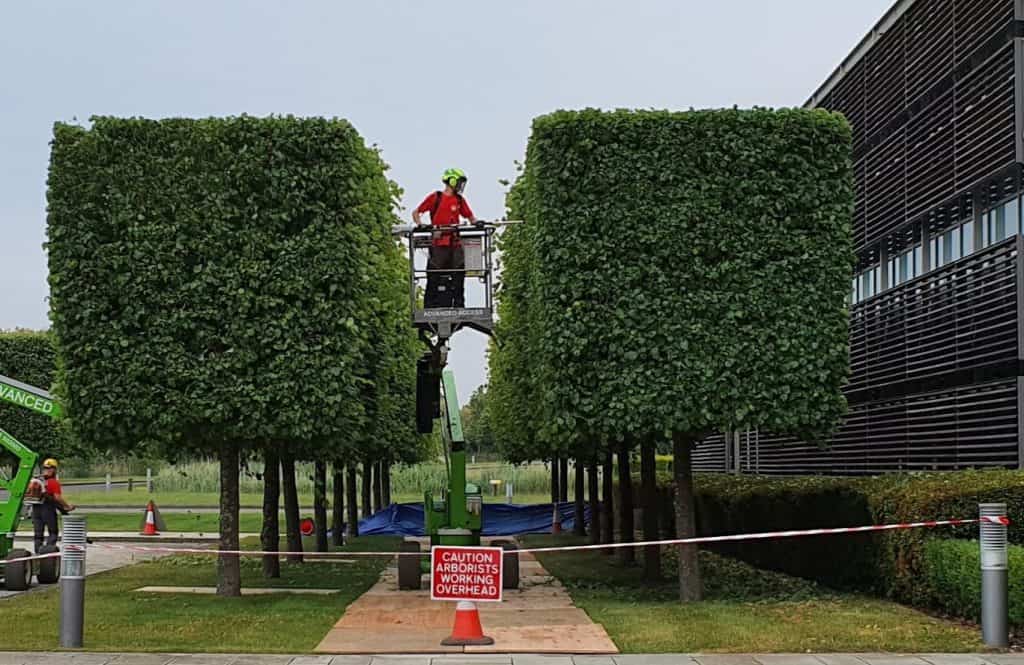 "They've got 70 boxed limes, five metres high and three metres square, and Rolls-Royce, being Rolls-Royce, wants everything absolutely immaculate. These aren't young trees and as they get older, every tree grows differently, and you're trying to get every tree exactly the same. But we had these battery hedge trimmers – you wear the battery pack on your back so the actual cutter part is much lighter and easier to use – and the boys were really raving about them on that job. They're quiet, we can use them all day and we can get a much better line."
The human element
Listening to his team and looking after them are principles that have stuck with Mike throughout the 35 year lifetime of the business, and are intrinsic to the success of Connick Tree Care.
"I'm very keen that we keep an even playing field and everyone's treated the same, treated well."
Recruitment is key.
"I want people who want to be here, who want to work the way we want to work. We work hard. It's not an easy life. It's a tough job. But hopefully you get the rewards. So we obviously look at qualifications and previous experience. We do an interview and then do a trial. It's about getting your hands dirty. Even after a day, they'll get a feel for you and you'll get a feel for them.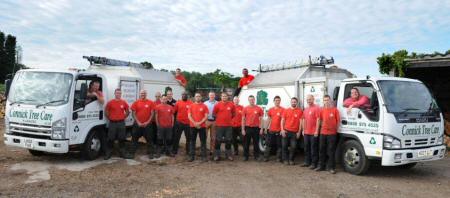 "My first employee – I gave him a week's trial actually – and I said to him at the end of the week, 'Gordon,' I said, 'there's some good news and some bad news. The good news is you've got a job. The bad news is I can't call you Gordon, it doesn't suit you.' He said, 'That's handy cos my name's Mark.' His surname was Gordon and I'd been calling him Gordon all week!"
The secret of success
Mike sums up the secret of his success in two words: honesty and professionalism.
"My philosophy is, if you think their trees are fine and they don't need any work, you tell them that. And in a lot of cases trees don't need pruning. A tree looks after itself. It's not going to fall over just because it's 90 foot high.
"So honesty and professionalism are key to it. Then making sure we give best value and efficiency in the way we work. And looking after the staff. Making sure I pay people on time for what they do and treating them fairly."
Life after trees
So what about the future? Having just turned 61, does Mike have his eye on the exit door?
"I don't have a succession plan but I do have a mode to get the company as efficient as possible and people in place to run all the functions. I do think about it [retirement] but I enjoy what I'm doing. I like to work hard and play hard."
Which brings the conversation back to cycling and the other pursuits that attract Mike's full-on enthusiasm, like swimming, socialising and a good pint of bitter.
"I love going to the pub."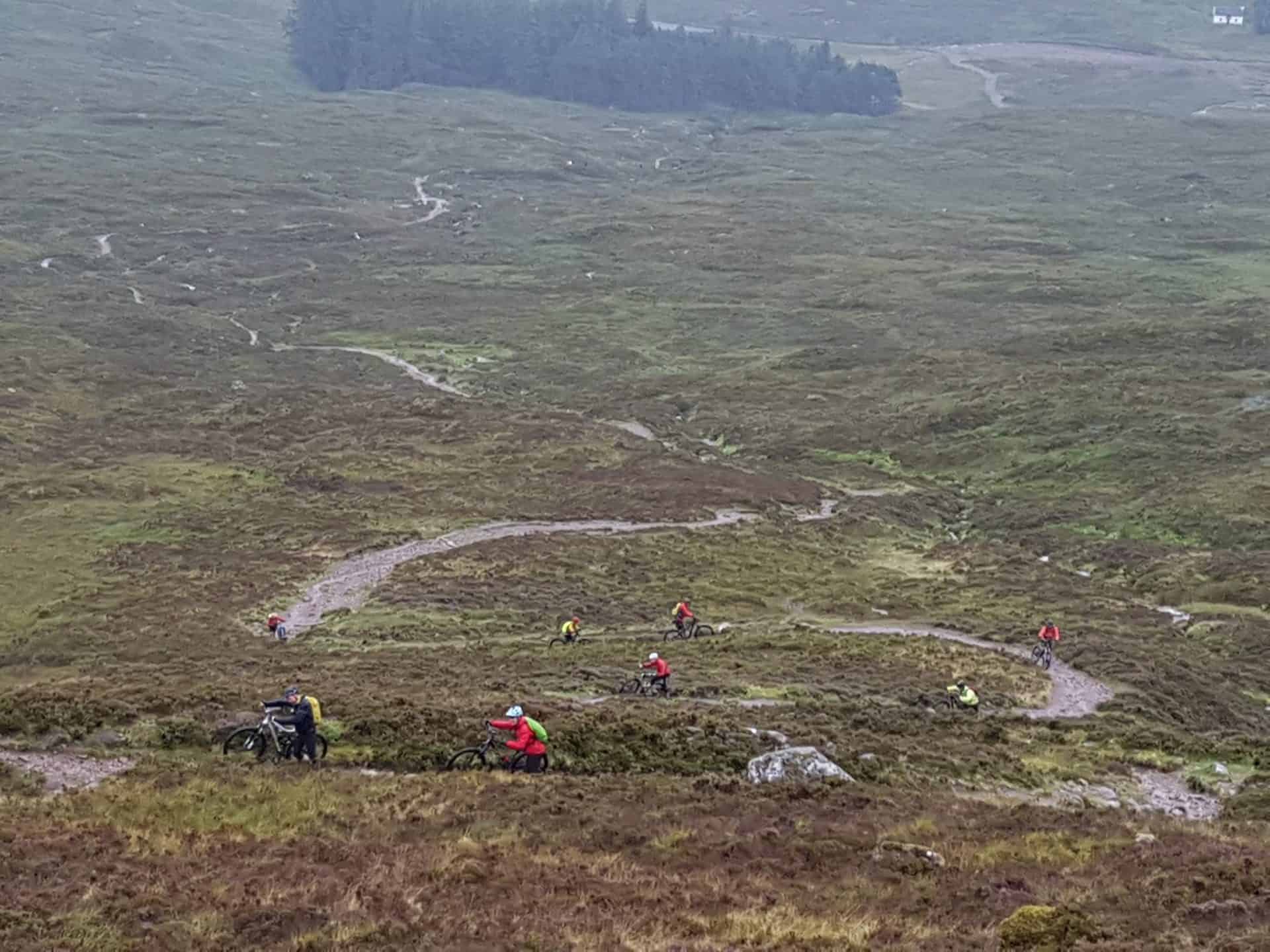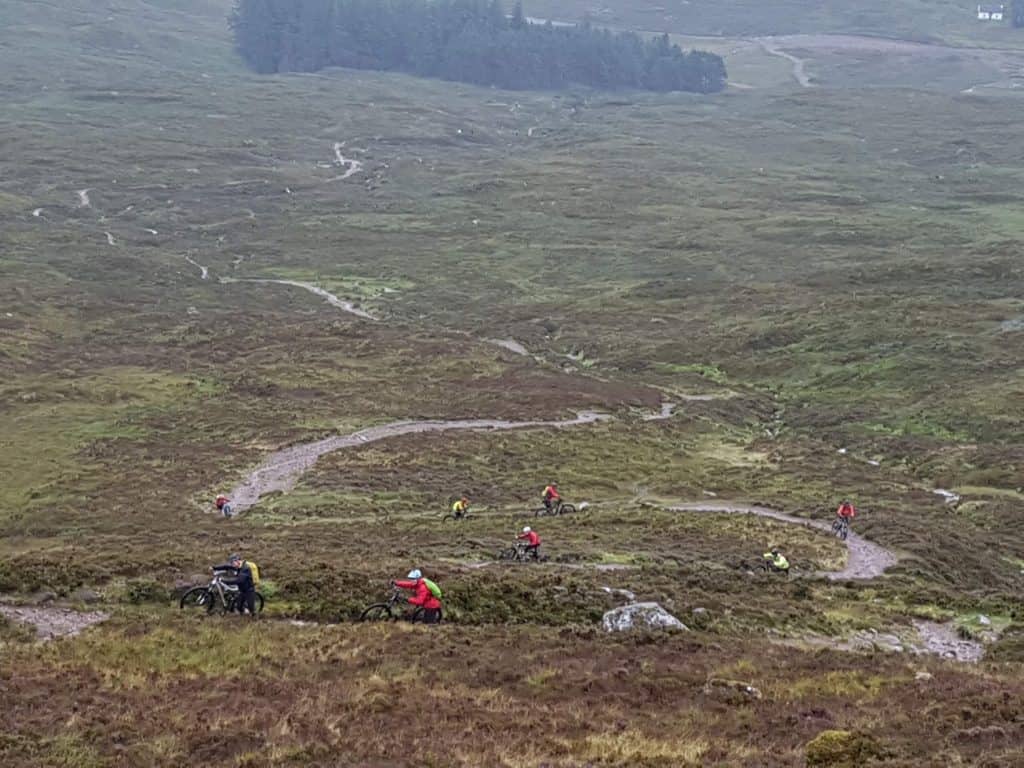 He cycles a lot with YMCA East Surrey. In 2019 he sponsored the Tartan Trail, a YMCA ride in Scotland, and in 2021 he's sponsoring an off-roader along the Pennine Way. He's also planning to take part in the Raid Pyrenees, a coast-to-coast cycle challenge, 442miles, over 46,000 feet of climbing in 100 hours, and a 26.2 mile marathon walk from Guildford to Redhill in March.
A favourite tree
If ever there was proof that working outdoors is good for your health, fitness and lust for life, Mike Connick is it. The year he launched Connick Tree Care, Jennifer Rush topped the charts for five weeks with The Power of Love. It seems Mike's been feeling it ever since.
I can't leave without asking him, in classic pop magazine style, what's your favourite tree?
"There's this beautiful Western Red Cedar, a Thuja plicate, in Betchworth and it's so big and wide that you can walk inside the canopy and there's a shed and a swing… it's like it's got it's own little village inside it. I love Thujas because you crush the leaves and they smell of gin. It's got all these branches that come down and layer up again. It's one tree but it's like a mini forest.
"I love that tree."
Mike Connick was talking to Tim Glynne-Jones