The Women in Arboriculture Group, within the Arboricultural Association, promotes female applicants into the industry and supports those already involved.
Arboriculture has relatively few women employed within it. Unfortunately, 'arborist' doesn't appear as a category on the Office for National Statistics (ONS) household census, so an accurate figure isn't available.
According to LANTRA, which provides accredited training and qualifications for land-based and environmental industries, in the 2016 Arboricultural Association memberships survey only 13% were women and this would have included roles such as researchers, Tree Officers, Tree Consultants, Forestry Managers and possibly some Climbing Arborists.
At Connick Tree Care we employ 58 Arborists of which only one is female.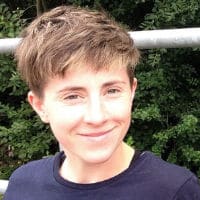 The London Tree Officers Association (LTOA) Diversity and Inclusion Working Party (DIWP) has provided aims and actions in their 2020 report that employers and employees in the sector can take to improve diversity in their workplace.
Jessica Stocks of the LTOA DIWP says, "By highlighting Sarah and her achievements, Connick Tree Care is actively encouraging more women to think about a role in the arboriculture industry and women will be better able to visualise themselves as an arborist, thanks to Sarah's example. We wish her a successful and inspiring career!"
Connick Tree Care is an equal opportunities employer and actively encourage diversity and inclusivity within our workforce.
Sarah's Story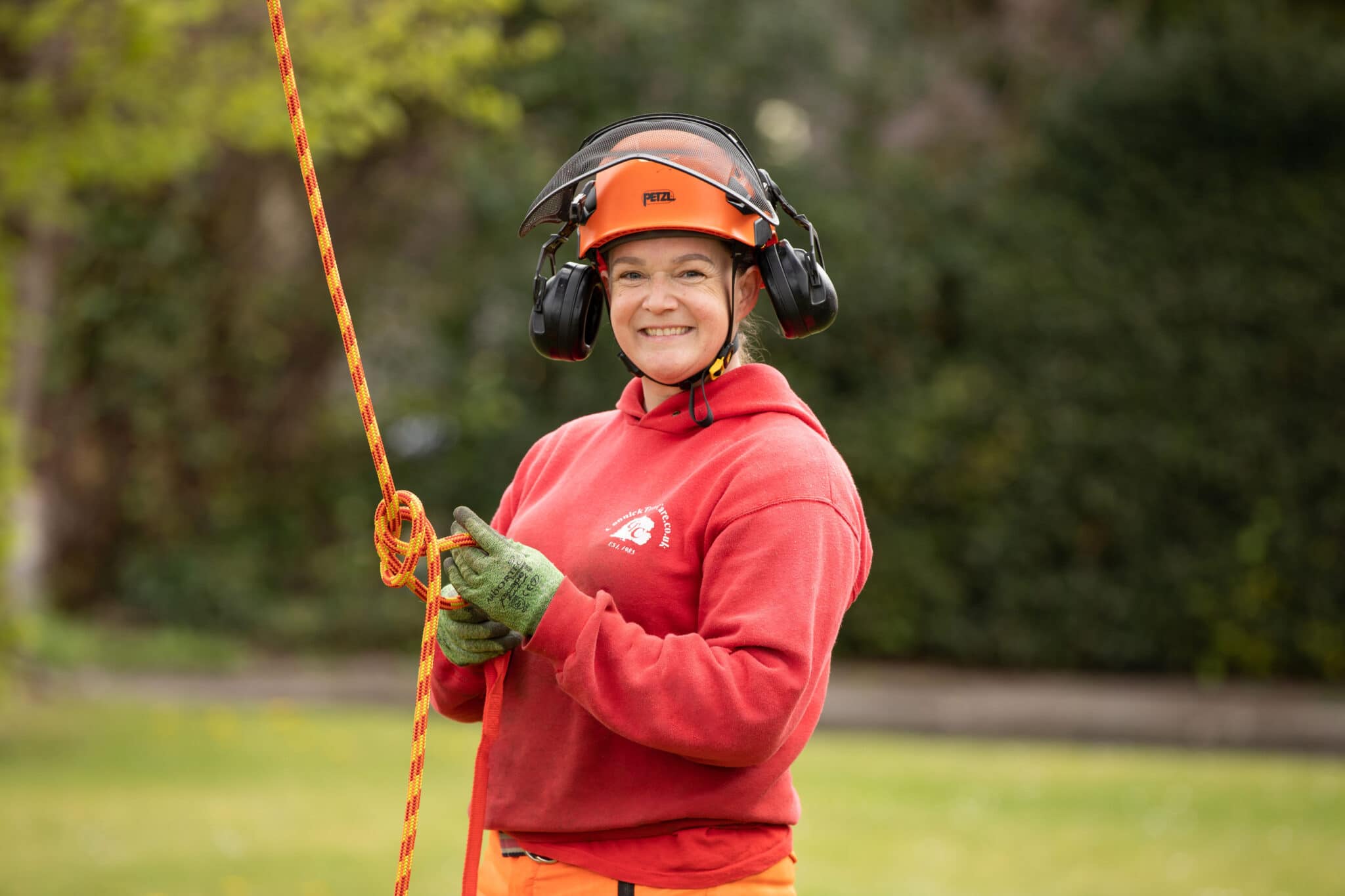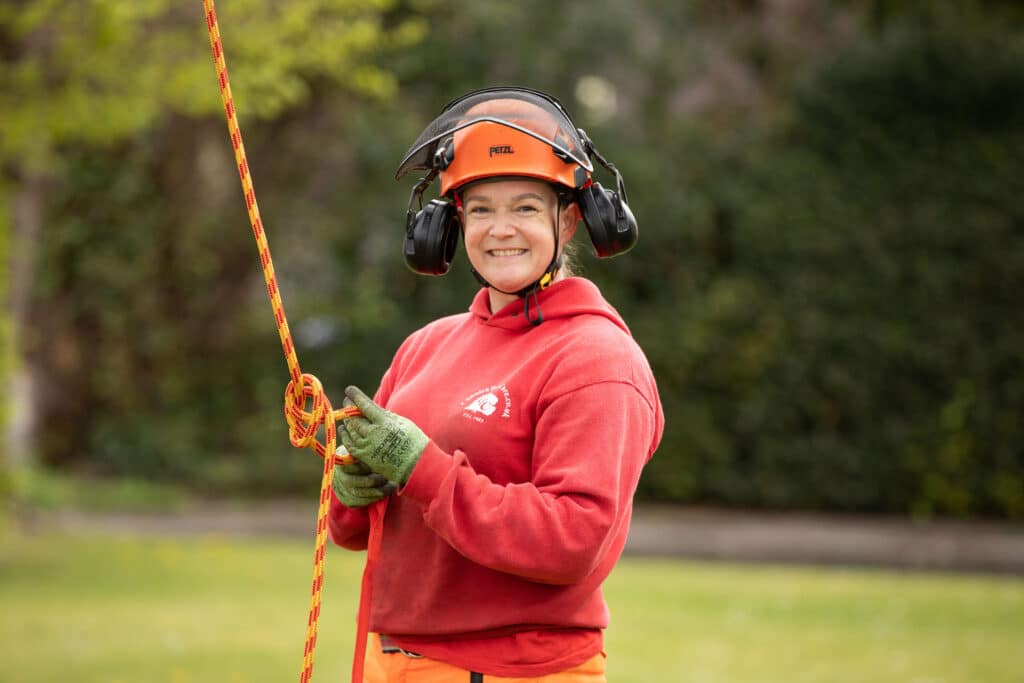 Previously to joining Connick Tree Care in 2021, Sarah was a Lifeguard at a local swimming pool.
So, what made Sarah change careers?
When you speak to any tree surgeon, you'll find their passion for nature and the environment, infectious and it was a conversation with her brother-in-law that inspired Sarah to switch to a career in arboriculture.
"I loved climbing trees as a kid and love the outdoors, so it seemed the perfect choice."
Sarah describes herself as a strong and confident woman. She didn't have any concerns about being the only female in a large team of males.
The job of a Climbing Arborist is physical, and the work is hard, but Sarah says she "cracks on with the job, no problem". And referring to her colleagues, "We're like a family unit and support each other."
Learning the ropes (literally)
Some of our arborists join Connick Tree Care having completed a course at a college such as Merrist Wood, which specialises in land-based industry training. Although, like Sarah, it's not necessary to have had prior experience before becoming an arborist, as many companies provide that training.
In the first 6 months Sarah attended two training courses, chainsaw maintenance, cross cutting and felling and processing small trees. She is also booked to attend a Tree Climbing and Aerial Rescue course over the summer.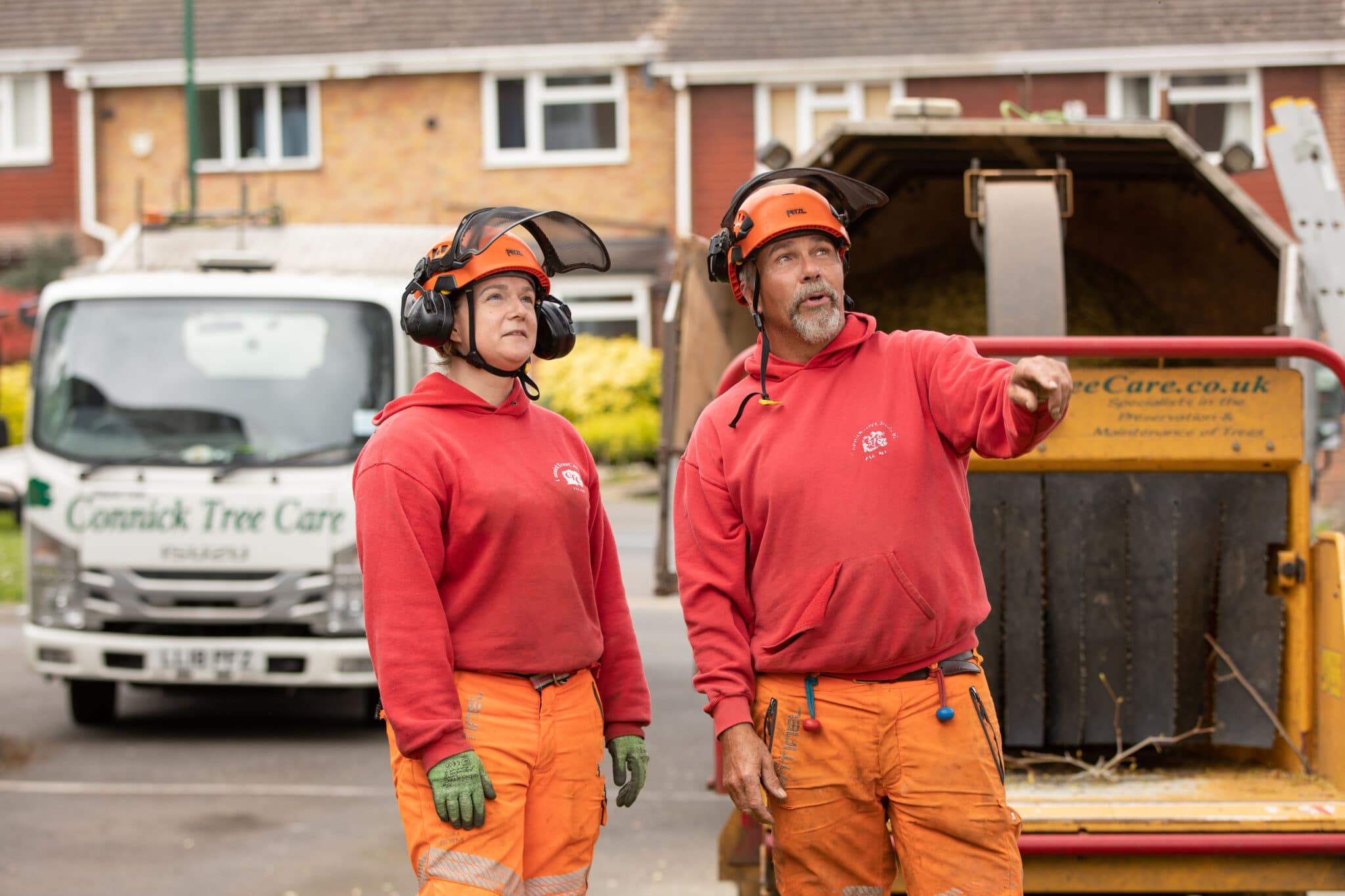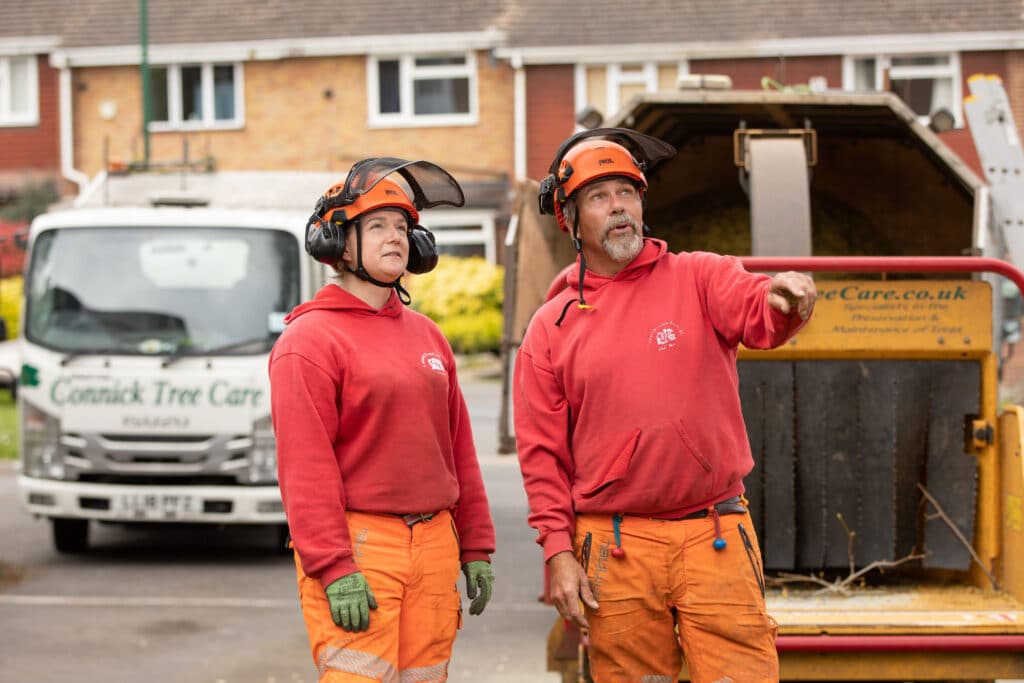 As well as the training courses, Sarah's learning continues on-site every day when she operates as part of a three-person team undertaking a variety of arboricultural works.
Sarah says, "Everyone I work with is very happy to answer my questions and share their knowledge and experience".
"I've learnt a lot already, but I know there are many more years ahead of learning, which makes the job exciting."
How has a new career in arboriculture worked out for Sarah?
Sarah says, "Learning something new and being part of a team that has my back is rewarding.
Every day is different. I enjoy working outdoors and driving around London seeing parts I never knew existed."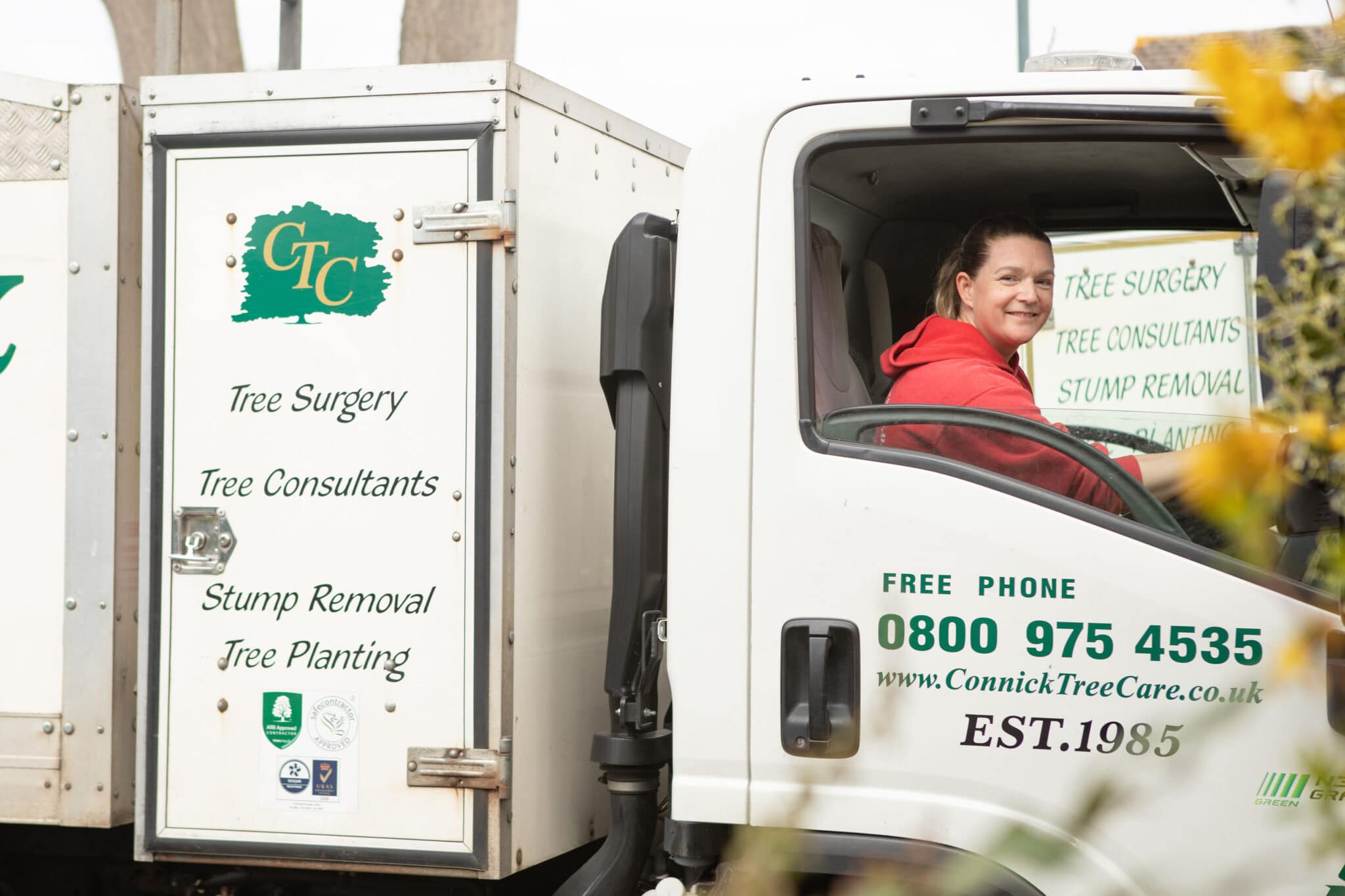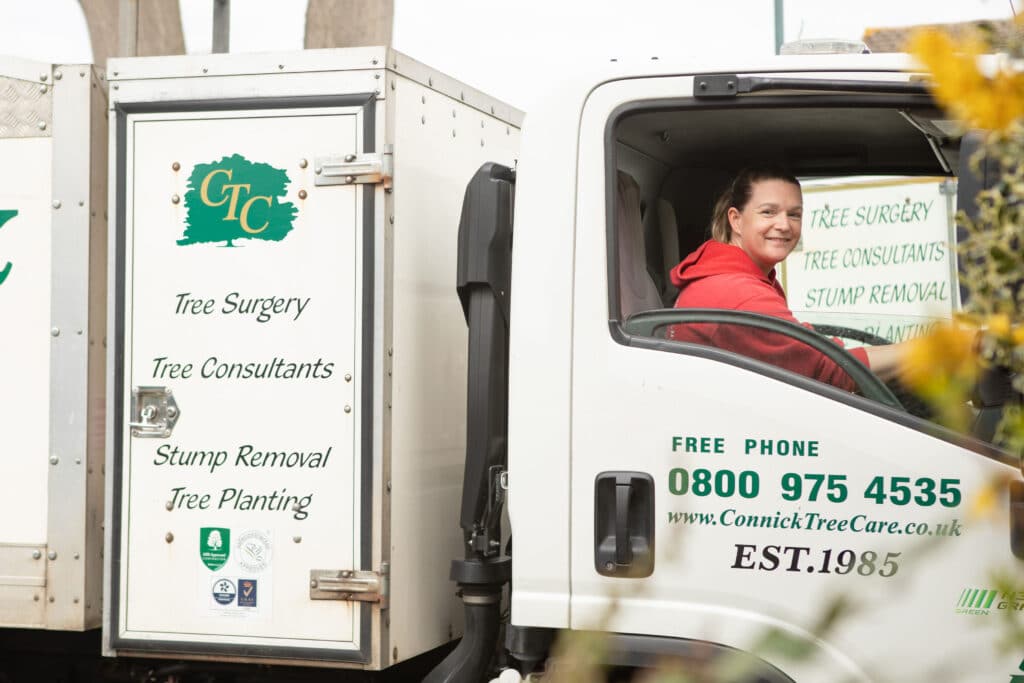 Sarah's previous role as a Lifeguard meant working evenings and weekends. Now, working weekdays only and finishing at 4:30pm, she's home in time to make dinner for her 4, 8 and 9 year old children and has the time to take them swimming at the weekends, which they love.
"I have a good family network around me, but on the odd occasion when I've had to leave early to take care of a sick child, my manager has been extremely understanding."
Any downsides?
"The weather!", Sarah admits. "It can be a pain when it rains, but you just have to get on with it. Storm Eunice was a real challenge, but we all worked hard and cracked on as a team."
We asked Sarah what advice she has for women considering a job in arboriculture.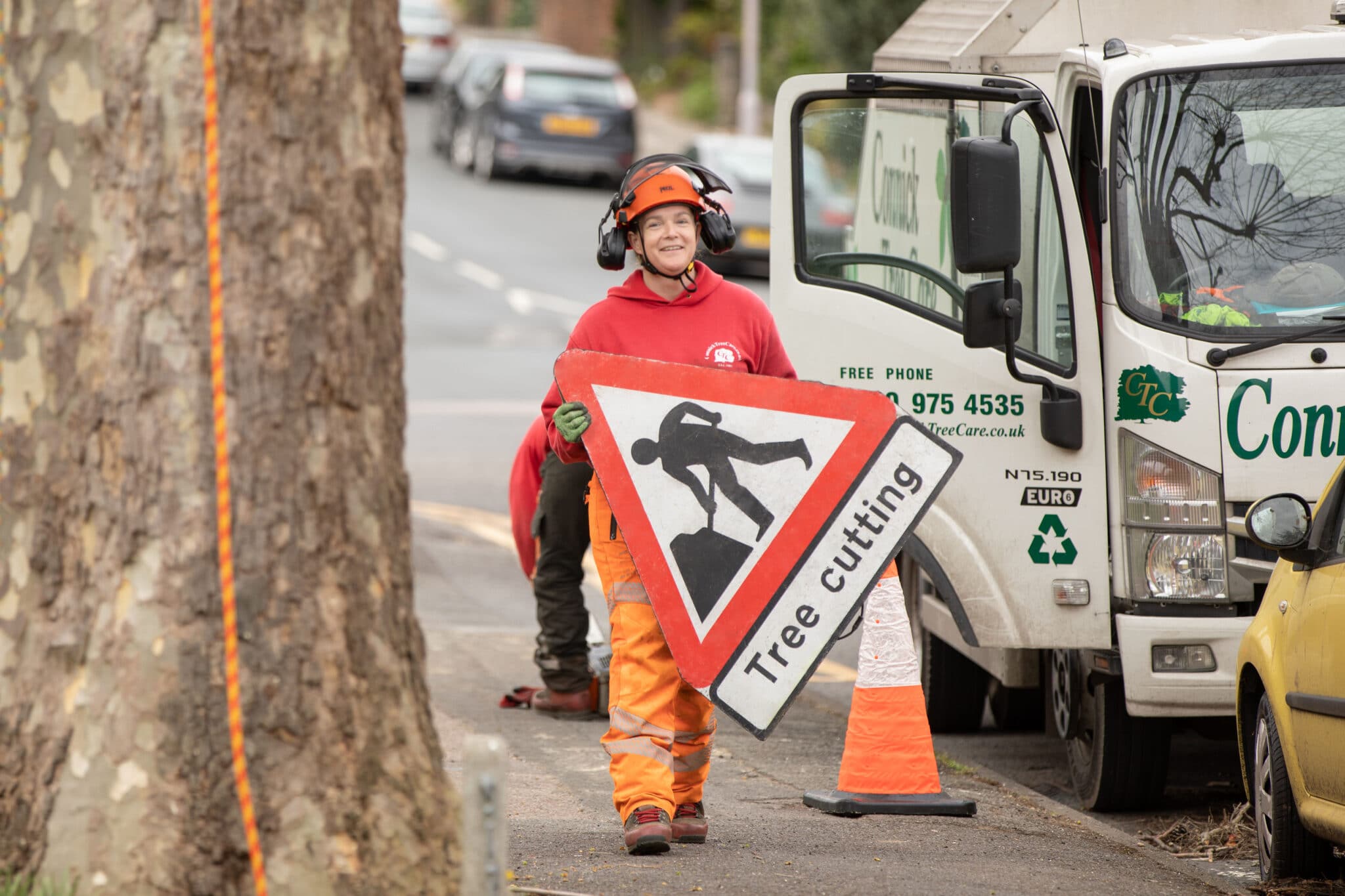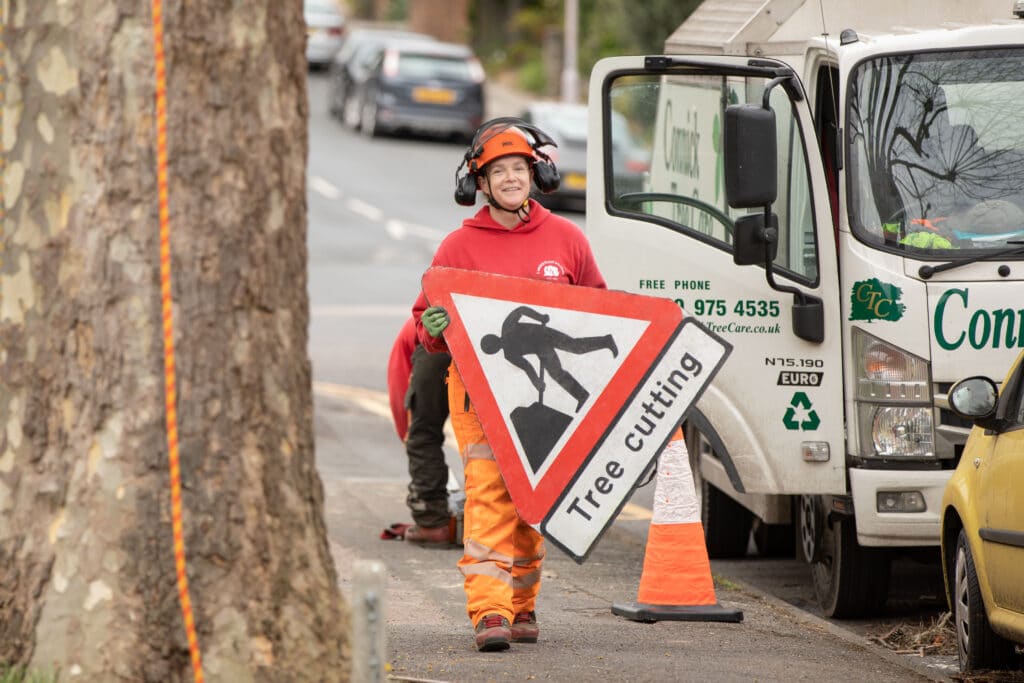 "Just give it a go and make sure you join an organisation like Connick Tree Care, that provides unlimited training and the rest you'll learn from your teammates."
If Sarah's story has inspired you, find out more about joining the Connick Tree Care Team.